Pupa Vamp Extreme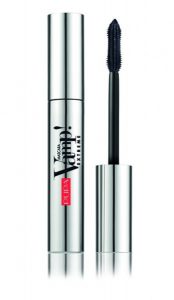 PUPA VAMP EXTREME – CHARACTERISTICS
Pupa Vamp Extreme has been made for special tasks – it is supposed to give a scarily seductive look, eyelash definition and enhancement of each and every lash. It has an intensely black pigment (which fades in the bright lighting). You should know there's an impressive choice when it comes to colors – seven shades including bold turkois, light blue and… red!
Pupa Vamp Extreme has quite untypical gel consistency – it aims at coating all lashes with the product precisely. The effect is quite good, eyelashes are thicker yet the lighter shades don't give corner or lower lashes good coverage (so they make better choice for lighter lashes). The gel-like formula has good and bad sides: it defines lash density – it's a perfect choice for ladies who have thin and 'invisible' lashes. Too bad, this product fails to give as spectacular extension as other mascaras in the ranking.
PUPA VAMP EXTREME – APPLICATOR (silicone brush)
The brush is made from elastomer (silicone) of new generation. It is elastic, flexible and soft, resembling the shape of an hourglass. The spiral is quite big; its unique shape requires some skill in use. The wide top of the brush easily catches lashes and combs them but it stains lower eyelids.
PUPA VAMP EXTREME – EYELASH-ENHANCING INGREDIENTS
Pupa Vamp Extreme is deprived of significant lash-conditioning ingredients.
PUPA VAMP EXTREME – EFFECTS
The mascara makes the lash line look fuller and separates but it gives no extension effect – the gel formula is quite watery and fails to build up on lash tips.
PUPA VAMP EXTREME – REVIEWS/OPINIONS
The mascara gets mixed reviews – mostly because of an untypical applicator which easily gets on your lower eyelids. Women who have thin and dense lashes like the effect more than those hoping for lash extension. The large size surely encourages to get the product but remember that the big brush picks up too much mascara so it runs out in no time.
PUPA VAMP EXTREME – BENEFITS
free of parabens
size (12 ml)
ophthalmologist-tested
good hourglass-shaped silicone brush
brilliant lash separation
thickening effect
lash volume boost
PUPA VAMP EXTREME – MINUSES
too watery and sticky formula
it falls on cheeks
you need to get the hang of the application
poor lengthening effect
risk of clumps when you apply the second layer
in spite of the size, it runs out quickly
seven colors which are poorly pigmented and give poor coating
lack of lash-conditioning substances
you must wash the brush often
the brush scoops too much product