Types of mascara wands. Which one is the best?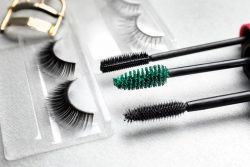 Mascaras differ in many aspects, including ingredients and the type of action. However, they are also equipped with a different type of wands which highly influence the comfort of use and effects. Which mascara wand is the best?
Not many women realize that there is a vast array of choice when it comes to mascara brushes. It is highly likely that out of habit we tend to reach for the same mascara. If you don't know what the types of wands there are, be sure to read this article. You will be surprised!
The importance of mascara brush
Everything that can be done with eyelashes, the way we stylise and emphasize them, can be done with the help of an applicator. The consistency of the formula is important as well, however, even the best formula can hardly be applied if your brush is too big. That's why there is nothing more important than the type of brush your mascara is equipped with.
What are the types of mascara wands?
Often, the manufacturers claim that their mascara has an innovative, different from all and original brush. In many cases, however, these are almost the same applicators that differ only in length or density.
Here are the most popular types of wands:
Classic wand – simple, medium size, bristles of one length.
Big wand – maxi version of the classic brush, suitable for large eyes.
Micro wand – very thin, straight, spherically arranged bristles.
Universal wand – straight, bristles of different length.
Ball wand – small, bristles arranged in the form of a ball.
Comb wand – simple, bristles only on one side.
Curved wand – medium size, gently curved.
Obviously, the brushes differ not only in shape, but also in size (they can be thicker and longer, or narrower and thinner) and the material from which they were made. The most popular are silicone applicators, but we can find mascaras with brushes from many other materials.
Types of brushes in mascaras in terms of material:
silicone with much greater flexibility,
other types of elastomers,
nylon fibres,
steel (usually in the form of a rod).
WHICH MASCARA IS THE BEST?
When choosing a mascara, it's worth paying attention to its features as well as the applicator. Which mascaras (on the basis of the wand) are the simplest to use and give the best results?
The mascara brush should fulfil its task – facilitate the application of the formula and comb the lashes. If we can hardly operate it, we should change the cosmetic. The wand should be matched to the size and shape of our eyes – if we have small eyes and short eyelashes, a large brush will not work well. It's also good to check if the brush can be easily washed, is flexible and hypoallergenic. The silicone brush definitely wins in this respect.
---
Tags:
ball wand
,
best mascara
,
big wand
,
bristle hair brush
,
classic wand
,
curved wand
,
mascara
,
mascara applicator
,
mascara brush
,
mascara wand
,
micro wand
,
silicone brush
,
universal wand
---