Diorshow Pump' N' Volume Mascara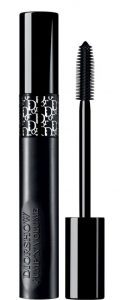 DIORSHOW PUMP' N' VOLUME – CHARACTERISTICS
Mascara which is supposed to build unbelievable lash volume and extreme extension. Dior desired to surprise with the effect of very bold as well as flawless makeup. With this in mind, the consistency of the mascara should be non-stop fresh and creamy till the last drop of the product. In this way, you avoid clumpy lashes. Pump'n'Volume Mascara has a specially-designed bottle with the elastic, soft rubber at the bottom. You simply squeeze this part to mix the formula – this is how you keep the product creamy and clump-free. The mascara gives the bold look; lashes get the XXL size after just one coating – that's why next portion must be applied in moderation to avoid clumping.
DIORSHOW PUMP' N' VOLUME – EYELASH-ENHANCING INGREDIENTS
Palmitic acid boosts shine and leaves a protective coat on lashes, locking moisture in
Magnetite is an intensely black mineral pigment which additionally conditions and protects lashes
Silica (silicon dioxide) scatters the light (making the structure of lashes look smooth) and keeps them strong
DIORSHOW PUMP' N' VOLUME APPLICATOR (silicone brush)
Dior Pump'n'Volume comes with a quite big silicone applicator having short, slightly curved bristles. It scoops the sufficient amount and smoothly glides on lashes, separating and coating them with the product. The base of the bottle is quite stiff whereas tiny bristles are pretty soft and bouncy in order to go along with the lash shape and never tug your lashes during application.
DIORSHOW PUMP' N' VOLUME – EFFECTS
Eyelashes get intensely black, nicely separated and lengthened, gain volume and definition. Dior Pump'n'Volume lets you get a really bold, big night out, flawless lash look.
DIORSHOW PUMP' N' VOLUME – REVIEWS/OPINIONS
Dior Pump'n'Volume gets really good opinions – it ensures glam makeup and it's a popular choice among bloggers and vloggers testing new products because of the innovative bottle. The mascara gives great effects plus the unique tube keeps the product fresh and high quality for long months.
DIORSHOW PUMP' N' VOLUME – BENEFITS
intensely-black pigmentation
lash-conditioning ingredients
good applicator
an innovative tube keeping the formula fresh
no flaking off or dusting cheeks
DIORSHOW PUMP' N' VOLUME – MINUSES
one shade available
it doesn't work for everyday natural makeup