Lashcode Mascara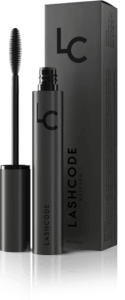 LASHCODE – CHARACTERISTICS
The mascara provides excellent extension, good thickening and intensified eyelash volume. It is specially designed for weak, faint-looking lashes yet it goes along with all types of eyelashes. The product has regenerating and nourishing effect, strengthens and stimulates growth thanks to an innovative, non-sticky formula. The pleasant, powdery, satin-like consistency ensures all kinds of effects from a daily subtle makeup to a bold, evening look. This mascara styles your lashes and creates flawless stunning makeup which stays perfect throughout the day with no clumps or flakes.
LASHCODE – EYELASH-ENHANCING INGREDIENTS
Lashcode is an outstanding prestigious product. Not only does it give makeup – it also upgrades the appearance and structure of lashes by nourishing them with the finest-quality plant ingredients:
Soy germ extract stimulates growth, keeps lashes from aging and falling out, reinforces from the very bulbs
Wheat germ extract regenerates, smoothes and conditions lashes, moisturising and making them resilient
Skullcap root extract (Baicalein) equals the diversity of flavonoids, protecting lashes from aging and keeping them in shape, it contains natural UV filter
Panthenol (pro-vitamin B5) adds elasticity, boosts shine and improves lash condition
Vitamin E is an essential building block of hair stem, a strong antioxidant, it reinforces and protects from the lash bulbs to the tips, replenishes micro-damage on the lash surface
Arginine is a natural amino acid which keeps lashes hydrated and lets transported easily to the hair matrix
Rice wax is extracted from the bran of rice, it's durable and doesn't dissolve in water. It gives a softening and smoothing effect, enhances shine, protects and nourishes whereas in makeup – it makes the lash line look fuller. The wax conditions and keeps lashes moisturised
mineral pigment (magnetite) is a top-class, natural, long-lasting pigment which has a beautiful, highly-saturated black color and additionally nourishes, moisturises and protects against damage
LASHCODE – APPLICATOR (silicone brush)
The applicator has thought-out construction. It's been designed to reach each and every eyelash, as well as save you from the unwanted smudges. The Lashcode applicator is made from the high-quality flexible silicone and has quite densely-arranged bristles. It nicely separates, lets you evenly spread the product and doesn't leave lashes sticking together. The wand lets you coat both upper and lower lashes; its precision gives you a chance to build up the effect for the soft go-to makeup or an intense wild look.
LASHCODE – EFFECTS
Lashcode gives a flawless look every time you apply it: strikingly longer, thicker, intensely black, curled and lifted lashes to give you the eye-opening effect. The lash line looks fuller after the very first application; the mascara neither gets on the eyelids nor falls on cheeks throughout the day. This fabulous makeup is the result of perfect combination of the formula and the precise applicator. Lashcode lets you enjoy various makeup effects depending on your mood or occasion.
LASHCODE – CONSUMER OPINIONS
Lashcode gets great reviews from women marveling at its makeup effect, nutrients, durability and consistency. The mascara is recommended by bloggers, vloggers and makeup artists – you get incredible lash volume in the blink of an eye.
LASHCODE – BENEFITS
the size (10ml)
a high-quality black mineral pigment
stunning saturated color
a precise wand
durability and efficiency
nice extension
thickens lashes without sticking them together
boosts volume on the lash line
nourishes and repairs eyelashes
helps lashes grow more quickly
ophthalmologist-tested
suitable for contact lens wearers
LASHCODE – MINUSES
more information can be found on the official website – lashcode.us