Lancome Hypnôse Drama Mascara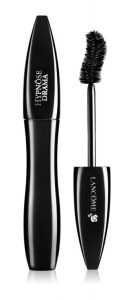 HYPNÔSE DRAMA MASCARA – CHARACTERISTICS
Hypnose Drama is a famous and legendary mascara. As one of the first brands, Lancome launched a mascara with an untypically-shaped brush and deep ultra-black pigment which strikes you when you look at your lashes in the mirror, giving spectacular effect. The mascara is designed to – in accordance to the name – make your eyes hypnotizing thanks to a bold, dramatic makeup. The mascara requires a few applications because the first layers won't give a desired effect – the consistency of Hypnose Drama is extremely runny (to keep the product from settling on the dense, fluffy brush). However, the mascara changes its consistency after just 2-3 weeks, getting denser, which leads to clumps and unevenly distributed mascara if you're not used to the brush yet. The product comes in two color versions – black and dark brown.
HYPNÔSE DRAMA MASCARA – APPLICATOR (nylon-bristle brush)
Hypnose Drama Mascara has an untypical brush with nylon bristles – it's big, dense and very fluffy. The S-shaped brush is supposed to make the application easier: the sunken part catches and curls lashes whereas the raised part is to build volume and upgrade makeup. Unfortunately, the runny formula easily gets on eyelids and even eyebrows. Only those of you who are experienced in makeup application will be able to apply this mascara to lower lashes: it really stains your skin.
HYPNÔSE DRAMA MASCARA – EYELASH-ENHANCING INGREDIENTS
jojoba oil nourishes and conditions lashes, protects them from the harmfulness of external factors
panthenol soothes irritations and allergic reactions, moisturises, smoothes lash structure and gently boosts shine
HYPNÔSE DRAMA MASCARA – EFFECTS
Lancome Hypnose Drama equals ultra black lengthy lashes. The application requires some experience. If you get the hang of it, you get a bold look and eyelash definition. While applying the mascara, you might need to use specially-designed shields which prevent marks on eyelids. Lashes get longer and slightly thicker. The raised part of the brush lets you precisely build up volume.
HYPNÔSE DRAMA MASCARA – REVIEWS/OPINIONS
Hypnose Drama is one of the bestsellers among mascaras launched by Lancome. The product is already renowned and gets quite good opinions. Still, there are also some negative reviews saying that it runs out and dries out quickly. The large brush scoops too much of the product and leaves clumps; the application itself is problematic.
HYPNÔSE DRAMA MASCARA – BENEFITS
well-pigmented
lash extension
fuller-looking lash line
ingredients such as jojoba oil and panthenol
HYPNÔSE DRAMA MASCARA – MINUSES
too runny formula
the brush needs non-stop washing (dry clumps settle in the bristle)
it takes time until you get the hang of using the big brush
it runs out quickly
it leaves marks on both eyelids and eyebrows
only two color versions
poor thickening effect