Kat Von D Immortal Lash 24 Hour Mascara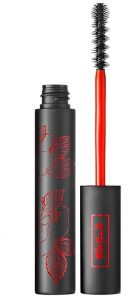 KAT VON D IMMORTAL LASH – CHARACTERISTICS
Kat Von D Immortal Lash boasts about extended durability and it's designed for short, faint, thinning lashes. The mascara ensures long-wear intense extension and thickening. Specially-designed formula keeps the product from flaking, smudging or dusting yet it comes off easily during makeup removal.
KAT VON D IMMORTAL LASH – APPLICATOR (silicone brush)
The bristles on the silicone brush are evenly arranged to surround the base of the wand, giving the brush the spiral shape (3in1 Spiral). There is also a comb for nice lash separation. The bristles catch the tiniest lashes coating them with an even layer from the roots to ends. The round tip of the brush lets you apply the product to short, thinning and hard-to-reach lashes (e.g. lower or corner lashes).
KAT VON D IMMORTAL LASH – EYELASH-ENHANCING INGREDIENTS
vitamin A is responsible for the cycle of cell renewal, strengthens lashes and keeps them from falling out
vitamin E fights free radicals, prevents aging and dryness, triggers growth
KAT VON D IMMORTAL LASH – EFFECTS
Kat Von D Immortal Lash is a high-quality, durable formula which delivers flawless eyelash makeup, separation, a really nice and long-lasting effect: Kat von D Mascara means 24 hours without clumps or flakes. Even though you must get the hang of the application, it's definitely worth testing: the brush lets you easily apply the mascara to every single – even the smallest – lash.
KAT VON D IMMORTAL LASH – REVIEWS/OPINIONS
Kat Von D has a fan club, her products always amaze with neat and unique design. Kat Von D Immortal Lash also deserves the good opinions as it's a high-quality product. Your makeup will be spectacular; the product makes lashes look really nice.
KAT VON D IMMORTAL LASH – BENEFITS
a well-designed applicator
long-lasting formula
lengthens and thickens lashes
suitable both for everyday and evening makeup
it contains vitamins A and E
it doesn't leave any clumps
it doesn't get on eyelids
KAT VON D IMMORTAL LASH – MINUSES
applying the mascara requires some skills
available in one color version
the wand must be washed regularly so as not to gather clumps
---
Tags:
kat von d immortal application
,
kat von d immortal effects
,
kat von d immortal how it works
,
kat von d immortal mascara
,
volumizing mascara
,
what type of mascara
---