Chanel Le Volume Mascara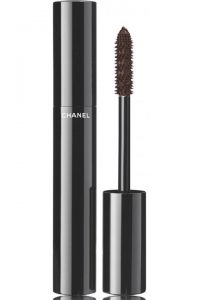 LE VOLUME MASCARA – CHARACTERISTICS
Le Volume Mascara is designed to build extreme volume, as well as precisely separate and lengthen lashes. Its consistency is quite wet; the formula is neither greasy nor sticky, it's satin-like and really pleasant which makes the application easier and saves you from clumps. After opening, the mascara needs around 3 weeks to get the proper consistency. It has perfect density but it's too wet and gets on the upper eyelids. The mascara makes lashes much thicker and longer. Too bad, extremely high temperatures make the product fall on your cheeks – it definitely shouldn't be happening when we deal with such a prestigious product. Luckily, there's a waterproof version available; it's much longer-lasting but taking it off is very hard. This mascara is available in three colors – apart from the black Chanel Le Volume, you can get dark blue or brown version. The colors are highly pigmented but the black shade looks a little bit like charcoal in a bright lighting.
LE VOLUME MASCARA – APPLICATOR (silicone brush)
Chanel Le Volume has a silicone brush which precisely grabs every lash. It is supposed to get to all lashes, even the corner lashes which are hardest to reach. Sadly, the brush is too big to do the trick.
LE VOLUME MASCARA – EYELASH-ENHANCING INGREDIENTS
vitamin E (tocopherol) is a strong antioxidant and the source of youtfulness for all body cells. It makes bulbs stronger and conditions lashes, keeping them from falling out
LE VOLUME MASCARA – EFFECTS
Le Volume Mascara is a product which strikingly upgrades the looks of lashes with just one coat. They are long and nicely separated but you must be careful not to smudge the eyelids. The mascara resists to humidity (it neither drips nor flakes with rain) but its durability leaves a lot to be desired on hot days.
LE VOLUME MASCARA – REVIEWS/OPINIONS
Le Volume Mascara gets both good and bad opinions. You need some skill in using the silicone wand. If you're used to nylon bristles, you won't be amazed by the short synthetic bristles in Chanel Le Volume brush. The applicator needs regular washing; you must wait some time so that the product gets the desirable consistency.
LE VOLUME MASCARA – BENEFITS
extraordinary lash extension
nice thickening effect
no clumping
a wide choice of colors
most colors have good pigmentation
LE VOLUME MASCARA – MINUSES
too big brush smudging the eyelids
the mascara falls on cheeks when it's hot
the applicator needs constant washing as dried mascara clumps tend to settle on the bristles
the black shade has poor pigmentation
there's just one lash-conditioning ingredient