Bourjois Volume Reveal Adjustable Volume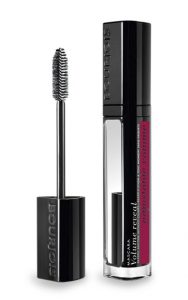 VOLUME REVEAL ADJUSTABLE – CHARACTERISTICS
After the Volume Reveal (with the silicone brush) success, Bourjois launched Volume Reveal Adjustable in a more classic version with a traditional nylon-bristle brush. The mascara is designed to upgrade the entire lash line, making lashes thicker, longer and fuller-looking. However, its formula is quite watery so it's really hard to work with the mascara: the brush bristles are too soft whereas the pigmentation leaves a lot to be desired. In day light, lashes look charcoal rather than black. Applying the mascara takes lots of time because you need to apply a few layers to get any effects. Just like the previous version, Bourjois Volume Reveal Adjustable has a really nice gadget – a triple magnifying mirror. Thanks to the handy gadget you can easily apply the mascara (on condition that you keep the mirror clean).
Bourjois Volume Reveal Adjustable contains keratin – the natural building block of lashes. Too bad, excessive amounts of keratin build up on lashes blocking the growth and make them brittle. Another flaw of the product? Nine synthetic silicones which don't let lash-conditioning ingredients work as they should.
VOLUME REVEAL ADJUSTABLE – APPLICATOR (nylon-bristle brush)
A classic nylon-bristle applicator with evenly-arranged bristles narrowing at the end of the brush. The soft spiral glides easily on lashes. Unfortunately, you don't get an instant effect of thicker and longer lashes – you must build up volume and add next coats.
This mascara is a version of Volume Reveal. Too bad it turned out to be failure. It was possibly an alternative designed for women who prefer nylon-bristle wands. Sadly, this idea came to nothing because the formula and the brush don't make a good match.
VOLUME REVEAL ADJUSTABLE – EYELASH-ENHANCING INGREDIENTS
Arginine is an amino acid which occurs in our bodies. It enhances the synthesis of keratin (lash structural constituent), moisturises and keeps lashes hydrated
Panthenol conditions, tames and protects lashes
Vitamin E is a strong antioxidant keeping eyelashes youthful and vital
VOLUME REVEAL ADJUSTABLE – EFFECTS
Subtle makeup and poor lash curl, thickening and lengthening effect. Regrettably, this version of the mascara really stains the eyelids – marks are visible both on the upper and lower eyelids. Bourjois Volume Reveal Adjustable seems to give 'invisible' effect on lashes. Its biggest downside is it moves from the lashes to your skin – is there a woman who likes to look in the mirror all the time and check for smudges around her eyes?
VOLUME REVEAL ADJUSTABLE – REVIEWS/OPINIONS
Volume Reveal Adjustable doesn't get as positive reviews as the original version with the silicone brush. Many women complain about the brand not delivering on the promise. To make things worse, they say the product runs out quickly (it has only 6 ml so the large bottle is quite misleading).
VOLUME REVEAL ADJUSTABLE – BENEFITS
lash-conditioning ingredients
a tube with a mirror
soft lash curl
VOLUME REVEAL ADJUSTABLE – MINUSES
small size
poor pigmentation
flaking ad smudging formula
no thickening effect
poor extension
barely noticeable volume boost
the formula and applicator don't make a good match
just one color available
too flexible bristles
uncomfortable, nylon-bristle brush
the wand must be washed often
the spiral picks up too little of the product (it's too watery)
keratin may weaken your lashes
9 artificial silicones