Bobbi Brown Extreme Party Mascara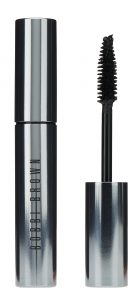 EXTREME PARTY MASCARA – CHARACTERISTICS
Bobbi Brown Mascara is made for a night out makeup: the product is described as the boldest version among all Bobbi Brown Mascaras. It gives the false lashes effect, delivers extension, impressive thickening and lets you add next coats without risking spider legs effect or clumps.
The mascara is also enriched with vitamins for lash elasticity. The effect the product gives is too intense for everyday makeup but it is cut out for a big night out, special occasions and evening makeup. Eyelashes stay soft and elastic so you can add next layers throughout the day. There's a thing you must remember – next coats hugely weigh down lashes and make them unnaturally thick. The mascara has a long-wear formula. It doesn't dust the cheeks but when you apply too much, it leaves lashes sticking together. Extreme Party Mascara may leave spots on your eyelids, especially if you've got thin and short lashes.
Suitable also for contact lens wearers, ophthalmologist tested.
EXTREME PARTY MASCARA – APPLICATOR (nylon-bristle brush)
A round brush effortlessly reaches the smallest lashes. It is quite large and has a classic shape (straight, with a slightly narrowed tip). The wand makes Extreme Party Mascara give you extreme… smudges on the eyelids. Therefore, you need both lots of time and skills to use it in your makeup routine.
EXTREME PARTY MASCARA – EYELASH-ENHANCING INGREDIENTS
vitamin A is responsible for the cellular renewal in our bodies, including the base of lashes – the bulbs
vitamin C is an antioxidant which fights free radicals and protects lashes from aging processes and loss of moisture. It delivers elasticity and prevents lash loss
vitamin E – known as the vitamin of youthfulness – enhances the regeneration of body cells and removes free radicals. It also delivers nutrients to the cells and gives reinforcement
EXTREME PARTY MASCARA – EFFECTS
The mascara gives an extraordinarily bold effect. The wand requires skillful application and fails to separate lashes as precisely as silicone bristles. However, the effect is really good and the wand is able to catch the tiniest corner lashes. You get definition and length. Beware, though! Don't apply too much because you might end up looking grotesque.
EXTREME PARTY MASCARA – REVIEWS/OPINIONS
Bobbi Brown Extreme Party gets both raving and negative reviews. Many women give up on applying more than one coat of the product because the nylon brush doesn't handle precise separation of lashes. This mascara works for a night out, giving bold lash makeup.
EXTREME PARTY MASCARA – BENEFITS
durable innovative formula
a nice effect after applying one layer
neither gets on cheeks nor budges
ophthalmologist-tested
the nylon-bristle brush is hard to wash
it doesn't cause allergic reactions
it can be used by contact lens wearers
highly-saturated pigment
rich in lash-enhancing vitamins
EXTREME PARTY MASCARA – MINUSES
small capacity (6 ml)
the nylon brush often leaves lashes sticking together
next layers you add during the day look unnatural
only one color available
you'd use it for evening makeup rather than for a natural daily look