Which eyelash curler to choose and how to use it? Types of eyelash curlers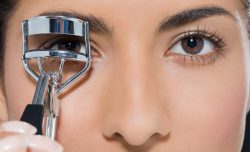 The eyelash curler lengthens and thickens eyelashes, optically enraging our eyes. The effects are obtained quickly and easily. However, improperly chosen eyelash curler will not give you the desired look and might also destroy your lashes. So how do you choose the eyelash curler and what are their types? What are the differences between mechanical and heated curler and what are their prices? How to use them properly? Do eyelash curlers destroy your eyelashes?
How to properly choose an eyelash curler? Types of eyelash curlers
There are two basic types of eyelash curlers: mechanical and heated.
Mechanical eyelash curler
Their choice is huge. Individual models differ from each other in size and material from which they were made. And yes – there are narrower and wider eyelash curlers as well as plastic and metal ones. The best choice is a metal curler equipped with replaceable silicone or rubber pads as they are safer for our eyes and last longer. The worst in terms of durability and the end results are plastic eyelash curlers that often weaken and break the eyelashes.
Heated eyelash curler
This category includes both mini-curlers and battery operated classic eyelash curlers. Their principle of operation is very similar: both heat up a little when turned on and curl the eyelashes. The effect lasts longer than that of the mechanical curler.
Another important factor when it comes to choosing the eyelash curler is the size. In general, eyelash curlers that cover whole eyelashes at one time are much more convenient to use and give a better effect than those that require shifting. The shape of the eyelash curler also matters: the eyelash curler with rounded ends is more effective than the square eyelash curler, which gives a slightly artificial effect.
Mechanical and heated eyelash curlers – price
Generally speaking, mechanical eyelash curlers are cheaper than heated ones, on average over three times, but the most expensive mechanical eyelash curler costs more than a good quality heated curler. It appears to be more effective and faster to use, but every woman should decide for herself which one suits her more.
How to use the eyelash curler?
Having chosen the right eyelash curler, you should learn how to use it. Improper use may lead to terrible consequences – hair breakage or even hair loss. The heated eyelash curler should be used as described in the instruction sheet. This mini-curler is used in a similar way any mascara is. The use of classic curlers or battery operated curlers is more complicated as it requires the knowledge of some crucial rules:
Always use the curler before applying the mascara. Why? The wax in the formula can stick to the eyelash curler and then your eyelashes can stick to the tool.
If your lashes are thick and stiff, you can heat the eyelash curler before use. A stream of warm air from the dryer should be used for this purpose. Check if the curler is not too hot as you might burn your eyelids, it's enough if it's slightly warm.
A hand that holds the eyelash curler cannot tremble. Otherwise, the movements will be imprecise and can damage your eyelashes. To avoid this, it is good to lean your hand on your cheek in such a way that the hand is still.
Don't curl your lashes while driving, because sudden movement can damage them.
Grasping the eyelash curler with your thumb and middle finger gives you the best control over it. Holding it in a different way is possible and recommended if that's the most convenient way for you.
Curl your eyelashes in stages. Hold the curler for no longer than 10 seconds on every part of the hair. How to do it properly? Place the eyelash curler as close to the upper lash line as possible, clamp down and wait. Then move it downwards and repeat.
The eyelash curler should only be used on the upper lashes because the lower are naturally curled.
Does the eyelash curler destroy eyelashes?
Properly selected eyelash curler will not deteriorate the condition of your eyelashes but a tool of poor quality might do it. To prevent this from happening, pay attention to a few things:
The mechanical eyelash curler should have a rubber pad which then acts as a shock absorber and thus protects lashes from damage.
It is not worth buying a plastic eyelash curler because it is unstable.
When using the heated eyelash curler, make sure that it is not too hot and, as a result, will not burn your eyebrows and eyelids.
Use the eyelash curler on clean eyelashes, never after the application of mascara – this is the only correct order.
---
Tags:
beautiful lashes
,
curled lashes
,
eyelash
,
eyelash curler
,
eyelash loss
,
heated eyelash curler
,
mascara
,
mechanical eyelash curler
---