Heated eyelash curler. Check how it works!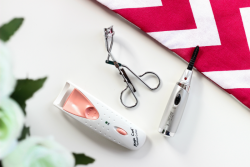 What does a heated eyelash curler have that its older sister, a traditional curler lacks? It definitely adds freshness and modernity to your make-up. It has been created to facilitate and improve eyelash curling. How does it work?
The eyelash curler not so long ago was associated with a metal device that resemble scissors with rubber cushions instead of blades. Between the rubber pads, eyelashes are placed and squeezed to give them the desired shape. This seemingly dangerously looking tool has been accompanying women for many decades making their eyelashes beautifully curled.
It needs to be noted that the traditional eyelash curler has many disadvantages, hence the need to find a better solution. Improperly used, the curler can make the eyelashes brittle, deformed or pulled. The condition of our delicate hairs can significantly deteriorate if we regularly squeeze them. Old rubber pads can also negatively contribute to this process – the sharp metal edge can act like scissors. Also, in order to obtain a durable effect, the eyelash curler should be heated with a stream of hot air from a dryer.
The traditional eyelash curler is not suitable for everyday use. It is a tool that can help you get a better volume of eyelashes once in a while, but used regularly, it affects their condition badly. A great alternative is a heated eyelash curler.
How does the heated eyelash curler work?
It is very different from the eyelash curler we got used to. It usually has oblong shape and the size of a mascara. It has a special comb and uses a higher temperature to curl the lashes, instead of mechanical deformation. Not only is it a safer method, but it also gives longer lasting and more visible results. The heater eyelash curler works like a hair curler!
How to use the heated eyelash curler?
Actually, it's nothing hard. Most often they are battery-operated. Before use, turn on the device and wait a few seconds for it to be ready for use. A specially profiled comb needs to reach the right temperature to comb and curl the eyelashes well.
Mind you! In contrast to the traditional eyelash curler, the heated one should be used after applying mascara, because then it makes the curl more durable.
The method of use resembles the application of mascara. You need to make a few moves from the eyelash line to its ends. The warmth emitted will make your eyelashes curled.
Heated eyelash curler – reviews
Many women consider this tool as the beginning of a new, somewhat advanced age in make-up. As we once stopped using hair curlers heated by hot coals, today we leave the traditional eyelash curler for its heater alternative. Opinions, however, are varied. Some women believe in tradition, they consider the heated curler as an unnecessary, useless gadget. The choice needs to be made by every woman because both tools have advantages and disadvantages.
---
Tags:
beautiful lashes
,
curled lashes
,
eyelash
,
eyelash care
,
eyelash curler
,
heated eyelash curler
,
mascara
,
mechanical eyelash curler
---