Botox for your eyelashes – indications, course and effects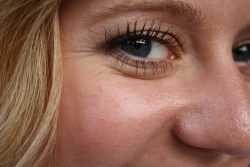 What does botox for eyelashes have in common with real botox? It turns out that these are two completely different treatments, although in both cases it's all about beauty. What is eyelash botox and how does it work? Check it!
Not that long time ago we had two options – either mascara or eyelash extensions. In the first case, the disadvantage is the necessity of everyday application, weakening them during make-up removal, difficulties in choosing the appropriate mascara that does not stick the lashes together. In the second case, however, it is difficult to obtain a natural effect and the treatment only masks the problems with eyelashes.
Eyelash botox treatment is the resolution here. On the one hand, it improves the appearance of our natural lashes instead of covering them with false ones, and, on the other hand, it emphasizes the look much better than a regular mascara. If this sounds good to you, find out more about the treatment.
Eyelash botox treatment. What is it?
This is an innovative treatment created especially for women who want to have dark, long and strong eyelashes. What's important – the needle is not used in eyelash botox, contrary to the botox we know. The name is only a reference to the effects – rejuvenation, refreshing and beautifying the look.
The basis of the treatment is the nutrient mixture applied to the eyelashes. It contains active ingredients, such as hyaluronic acid, keratin, collagen, panthenol, vitamin E, argan oil, silk, jojoba or linseed oil, etc.
Eyelash botox treatment. Effects
A lot can be said about the results about this simple procedure. Even though nothing is glued or injected and only a special preparation is applied, it changes our eyelashes extremely. Women who once decided to try return to the beauty salons impressed by such results as:
elasticity,
reinforcement,
nutrition,
darkening,
curling.
As a rule, lash botox is done after eyelash lifting (curling) or dyeing. Thanks to it, you can improve and consolidate the results. Botox for eyelashes, among other things, stops the pigment inside the hair, so that the colour does not fade for a long time. Thanks to this eyelashes are very dark, but also permanently curled and beautiful.
Eyelash botox treatment. Does it hurt?
Of course not! Although Botox is associated with needles and aesthetic medicine, in this case it is done differently. It is completely painless. What does it look like? This is an uncomplicated procedure and if it were not for the fact that it requires the use of a professional nutritional product, it would be easy to do it at home.
First, the eyelash lifting is done.
Then henna is applied (or the eyelashes are dyed in any other way).
Now, this is the main part of the procedure.
Eyelashes are cleaned to prepare them for the ingredients.
A special nourishing preparation is applied to each hair.
The treatment ends when nutrients are fully absorbed.
---
Tags:
beautiful eyelashes
,
eyelash
,
eyelash botox
,
eyelash henna
,
eyelash lifting
,
healthy lashes
,
lash botox treatment
---